Publications
An Introduction to International Migration Studies
European Perspectives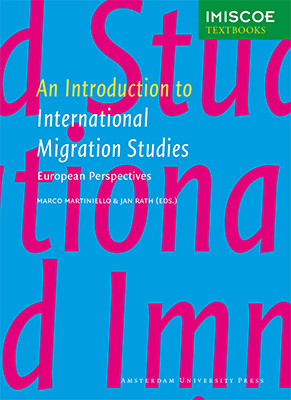 Review
Focusing mainly on the European experience including Eastern Europe, this important volume offers an advanced introduction to immigrant incorporation studies from a historical, empirical and theoretical perspective. Beyond incorporation theories, renowned scholars in the field explore incorporation in action in different fields, policy issues and normative dimensions.
Contents
1 An Introduction to International Migration Studies: European Perspectives
Marco Martiniello and Jan Rath

2 Beyond 'Push-Pull': The Economic Approach to Modelling Migration
Dragos Radu and Thomas Straubhaar

3 Historical-Structural Models of International Migration
Ewa Morawska

4 Social Networks and International Migration
Monica Boyd and Joanne Nowak

5 Transnational Migration
Eva Østergaard-Nielsen

6 Jus Sanguinis and Jus Soli: Aspects of Ethnic Migration and Immigration Policies in EU States
Efithia Voutira

7 Migration and Social Transformation
Stephen Castles

8 Guest Worker Migration in Post-War Europe (1946–1974): An Analytical Appraisal
Ahmet Akgündüz

9 Skilled Migration in Europe and Beyond: Recent Developments and Theoretical Considerations
Aimee Kuvik

10 Environmental Migration
François Gemenne

11 Student Migration
Russell King and Allan Findlay

12 Sunset Migration
Russell King

13 Undocumented Migration: An Explanatory Framework
Joanne van de Leun and Maria Ilies

14 Whither EU Immigration After the Lisbon Treaty?
Elspeth Guild

15 The Regulation of Undocumented Migration
Giuseppe Sciortino
Search the catalogue
Looking for a book or Journal CMS article in the IMISCOE Publications catalogue? Use the search engine.
For a comprehensive search in the world's most complete database of migration research, visit the Migration Research Hub.