Publications
Equal Opportunities and Ethnic Inequality in European Labour Markets
Discrimination, Gender and Policies of Diversity. Amsterdam University Press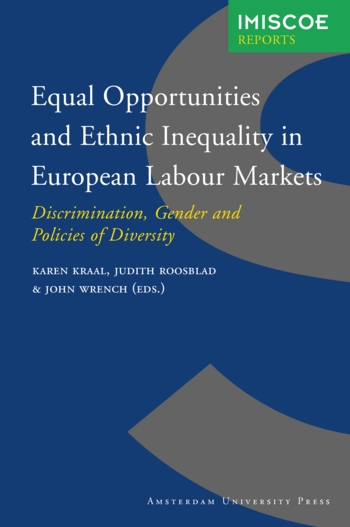 Review
The need to analyse labour market mechanisms in post-industrial Western societies is urgent. Despite laws and policy measures being developed at the European, national and local levels, job-seeking immigrants and ethnic minorities still suffer unequal access and ethnic discrimination. This volume endeavours to understand why. Four chapters dealing with discrimination, gender, equity policies and diversity management present a lively discussion of the current scientific debate. Besides providing empirical evidence, the authors recommend methods for conducting further research in the field and evaluate the actual effects of discrimination-combating policies. One conclusion is that systematic analysis of the labour market and its subsequent equity policies must be supported by hard data, such as statistics. With its state-of-the-art scope and unique thematic exploration, this volume transfers knowledge from social science studies to a more operational realm. From here, both scholars and practitioners can help make equal opportunities more accessible than ever.
Contents
1 The ideal of equal opportunities and the practice of unequal chances
Karen Kraal, John Wrench, Judith Roosblad and Patrick Simon

2 Ethnic inequality and discrimination in the labour market
Angela Nilsson and John Wrench

3 Migrant and minority women, inequalities and discrimination in the labour market
Eleonore Kofman, Judith Roosblad and Saskia Keuzenkamp

4 Employment equity policies in work organisations
Stijn Verbeek and Rinus Penninx

5 Diversity management and the business case
Michael Fischer
Search the catalogue
Looking for a book or Journal CMS article in the IMISCOE Publications catalogue? Use the search engine.
For a comprehensive search in the world's most complete database of migration research, visit the Migration Research Hub.