Publications
Dynamic Entrepreneurship
First and Second-Generation Immigrant Entrepreneurs in Dutch Cities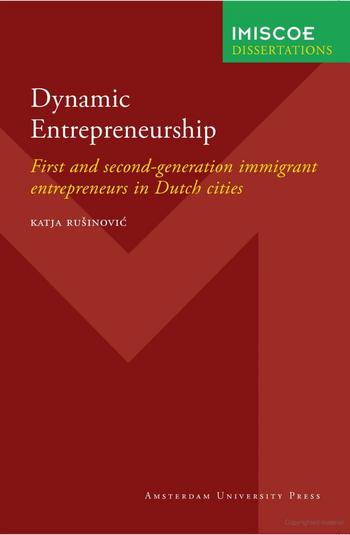 Review
The nature of immigrant entrepreneurship is changing in Dutch society. Nowadays, many immigrant entrepreneurs start businesses in producer and personal services instead of more traditional sectors such as retail or hotel and catering. At the same time, a growing number of second-generation immigrants are setting up their own firms in the Netherlands. These second-generation immigrants—born and/or raised in the receiving country—are following different trajectories in comparison with first-generation immigrant entrepreneurs, indeed displaying a move away from traditional immigrant niches. Yet studies on second-generation immigrant entrepreneurs remain limited in both the Dutch and international literature on this subject. This study presents one of the first explicit comparisons between first and second-generation self-employed immigrants. The embeddedness of immigrants in local and transnational networks and the dynamics of the markets in which these entrepreneurs are active are examined based on in-depth interviews with immigrant entrepreneurs in Dutch cities. In doing so, this study provides a vivid, longitudinal view of first and second-generation immigrant entrepreneurs, their incorporation into Dutch society, their businesses and business development(s).
Search the catalogue
Looking for a book or Journal CMS article in the IMISCOE Publications catalogue? Use the search engine.
For a comprehensive search in the world's most complete database of migration research, visit the Migration Research Hub.