Immigrant Performance in the Labour Market
Bonding and Bridging Social Capital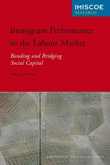 Review
To what extent can different forms of social capital help immigrants make headway on the labour market? An answer to this pressing question begins here. Taking the Netherlands and Germany as case studies, the book identifies two forms of social capital that may work to increase employment, income and occupational status and, conversely, decrease unemployment. New insights into the concepts of bonding and bridging arise through quantitative research methods, using longitudinal and crosssectional data. Referring to a dense network with 'thick' trust, bonding is measured as family ties, co-ethnic ties and trust in the family. Bridging is seen in terms of interethnic ties, thus implying a crosscutting network with 'thin' trust. Immigrant Performance in the Labour Market reveals that although bonding allows immigrants to get by, bridging enables them to get ahead.
Search the catalogue
Looking for a book or Journal CMS article in the IMISCOE Publications catalogue? Use the search engine.
For a comprehensive search in the world's most complete database of migration research, visit the Migration Research Hub.