Migrants and Markets
Perspectives from Economics and the Other Social Sciences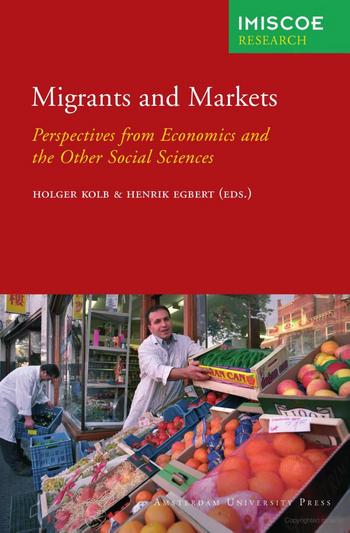 Review
The established academic discipline that is economics and migration research - as a growing sub-discipline that has inevitably transgressed its own academic bounds - have long treated each other with mutual indifference.
While migration research has suffered from a normative overstretch, economics has often reduced its analytical scope to those areas that traditionally belong to the 'genuine' economic sphere. Migrants and Markets contains eleven case studies that aim to overcome this artificially imposed barrier between economics and migration research. This is accomplished by applying economic methods to migratory phenomena, using economic theories to explain migratory patterns and by approaching the structure and development of markets as integral to the shaping of stocks and flows of migrants.
Contents
1 Migrants and Markets: Perspectives from Economics and the Other Social Sciences
Holger Kolb and Kenrik Egbert
2 The Impact of Immigration on the Labour Market: A Survey
Christian Lumpe
3 Investigating the Economic Impact of Immigration on the Host Country: The Case of Norway
Mete Feridun
4 The Exit Option of Labour Migration from East to West Germany: Individual and Contextual Determinants of Unemployed Workers' Geographic Mobility
Michael Windzio
5 How Recent Amendments in German Immigration Law Affect Decisions: The Case of Polish Doctors
Simon Fellmer
6 Educational Selectivit and Labour Market Attainment of Jewish Immigrants from the Former Soviet Union in Israel and Germany in the 1990s
Irena Kogan and Yinon Cohen
7 States as Clubs? The Political Economy of State Membership
Holger Kolb
8 Chinese Student Migration in Europe: A Migration That Nobody Objects To?
Wei Shen
9 Assessing Interdependencies between Sector Structures and Labour Migration: A Comparative Study of the British and the German Health Sectors
Kirsten Hoesch
10 Workers' Remittances and International Risk Sharing
Metodij Hadzi-Vaskow
11 Skills and Remittances: The Case of Afghan, Egyptian and Serbian Immigrants in Germany
Florin-Petru Vadean
12 The Impact of Migration on Foreign Trade in Bolivia
Gustavo Javier Canavire Bacarreza and Laura Ruud
Search the catalogue
Looking for a book or Journal CMS article in the IMISCOE Publications catalogue? Use the search engine.
For a comprehensive search in the world's most complete database of migration research, visit the Migration Research Hub.