Publications
Paths of Integration
Migrants in Western Europe (1880-2004)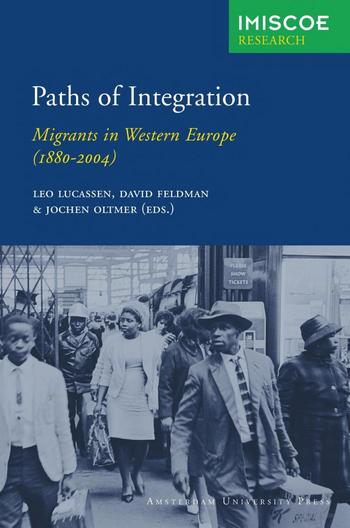 Review
In the 1990s, as concern grew in the United States about the integration of large numbers of immigrants, scholars searching for historical parallels looked to the last great period of immigration, ffrom 1880 to 1914. That example, however, is generally viewed as inapplicable to the current immigration debates in Europe.

Paths of Integration turns this conventional wisdom on its head, arguing that the history of European migration more closely parallels the U.S. experience than most realize, due to the largely ignored, but extensive, intra-European migration of the same period. By placing the European and U.S. examples side by side, the contributors to this volume offer long-term insights on a question that will be of great importance in the coming decades.
Contents
1 Immigrant Integration in Western Europe, Then and Now
Leo Lucassen, David Feldman, and Jochen Oltmer
2 Poles and Turks in the German Ruhr Area: Similarities and Differences
Leo Lucassen
3 Old and New Migrants in France: Italians and Algerians
Marie-Claude Blanc-Chaléard
4 Rural Dimensions at Stake: The Case of Italian Immigrants in Southwestern France
Laure Teulières
5 Assigning the State its Rightful Place? Migration, Integration and the State in Germany
Karen Schönwälder
6 'To Live as Germans Among Germans.' Immigration and Integration of 'Ethnic Germans' in the German Empire and the Weimar Republic
Jochen Oltmer
7 Aussiedler in Germany: From Smooth Adaptation to Tough Integration
Barbara Dietz
8 Polish Berlin: Differences and Similarities with Poles in the Ruhr Area, 1860-1920
Dorota Praszalowicz
9 A Passage from India: Trajectories of Economic Integration in London and Mediterranean Europe
Mark-Anthony Falzon
10 Afro-Caribbean Migrants in France and the United Kingdom
Laurence Brown
11 Trade Unions and Immigrant Incorporation: The US and Europe Compared
Barbara Schmitter-Heisler
12 No More Than a Keg of Beer: The Coherence of German Immigrant Communities
Marlou Schrover
13 Religious Newcomers and the Nation-State: Flows and Closures
Thijl Sunier
14 American Immigrants Look at Their Americanisation
Dorothee Schneider
15 Drawing up the Balance Sheet
Leo Lucassen, David Feldman and Jochen Oltmer
Search the catalogue
Looking for a book or Journal CMS article in the IMISCOE Publications catalogue? Use the search engine.
For a comprehensive search in the world's most complete database of migration research, visit the Migration Research Hub.