Publications
Ukrainian Migration to the European Union
Lessons from Migration Studies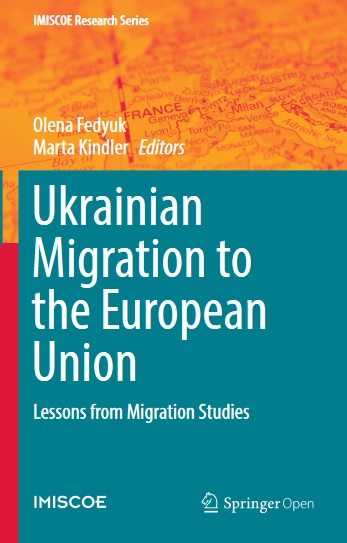 Review
This book provides a comprehensive examination into the flow of Ukrainian nationals to the EU. The chapters encompass and historicize this migration against a string of crises experienced by Ukraine and the region in the last three decades, from the dissolution of the USSR to changes in the EU borders to the failed economic reforms in independent Ukraine. The book engages in an impressive overview of major publications available in a variety of disciplines and in several languages, including Russian, Ukrainian, and English. It presents readers with a critical analysis of these authoritative sources along with linking historic and contemporary texts to establish continuity of the migratory trends and practices. Coverage brings together spatial, temporal, and geopolitical perspectives, offering expert analysis in such areas as economics, immigration policies, history, gender, and migration studies. In addition, the contributors also present Ukrainian migration as it is experienced within seven European countries: the Czech Republic, Germany, Greece, Italy, Poland, Portugal, and Spain. Drawing on data obtained in each country, these detailed portraits identify main trends and will help readers to better understand the dynamics of migration flow in the region as a whole. Overall, this volume provides researchers, policy makers and policy scholars, as well as students with a comprehensive overview of the wide-ranging research on this topic, a research that has been steadily growing in the last decades in a variety of disciplines but so far has not been brought together or thoroughly connected. It presents an insightful investigation that reveals not only the durability and ongoing transformation of the migratory flows from Ukraine but the restrictions of the ideological agendas that guide the research of this process.
Contents
1 Migration of Ukrainians to the European Union: Background and Key Issues
Fedyuk, Olena (et al.)

2 Ukrainian Migration Research Before and Since 1991
Vollmer, Bastian (et al.)

3 Economic Aspects of Ukrainian Migration to EU Countries
Kupets, Olga

4 Regulating Movement of the Very Mobile: Selected Legal and Policy Aspects of Ukrainian Migration to EU Countries
Szulecka, Monika

5 The Gender Perspective in Ukrainian Migration
Fedyuk, Olena

6 The Temporary Nature of Ukrainian Migration: Definitions, Determinants and Consequences
Górny, Agata (et al.)

7 Ukrainian Migration to Poland: A "Local" Mobility?
Brunarska, Zuzanna (et al.)

8 Ukrainians in the Czech Republic: On the Pathway from Temporary Foreign Workers to One of the Largest Minority Groups
Leontiyeva, Yana

9 Ukrainian Migration to Greece: from Irregular Work to Settlement, Family Reunification and Return
Nikolova, Marina (et al.)

10 Migration of Ukrainian Nationals to Italy: Women on the Move
Vianello, Francesca Alice

11 Migration of Ukrainian Nationals to Portugal: The Visibility of a New Migration Landscape
Fonseca, Maria Lucinda (et al.)

12 Research on Ukrainian Migration to Spain: Moving Beyond the Exploratory Approach
Stanek, Mikołaj (et al.)

13 Theorizing the Ukrainian Case: Pushing the Boundaries of Migration Studies Through a Europe–US Comparison
Solari, Cinzia D.
Search the catalogue
Looking for a book or Journal CMS article in the IMISCOE Publications catalogue? Use the search engine.
For a comprehensive search in the world's most complete database of migration research, visit the Migration Research Hub.